ZTE MF60 WiFi hotspot is a 3.75G mobile hotspot device, working in GSM/GPRS/ EDGE/ WCDMA/HSPA+ network.
The client device could connect to it via USB or Wi-Fi interface. With HSDPA 21.6Mbps downlink, quad-band GSM and tri-band UMTS, it gives maximum 5 users super fast Internet experience all over the world at the same time.
ZTE MF60 runs on battery and has a mini USB port and a built-in OLED display on the top and could supports up to 32GB Micro SDHC memory.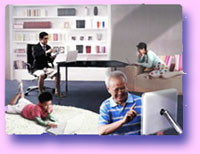 Working Mode

The following picture is the application example. Use the USB cable to connect your PC orlaptop which cannot provide wireless network function, and connect other laptops with devicevia Wi-Fi, so all of them can surf on the Internet at the same time.
Your device supports three working modes: USB mode, Wi-Fi mode, and Mixed mode. For the client, weonly use PC or laptop as the example in this document -
Support SMS services.
ZTE MF60 supports data and SMS services. It's the fastest mobile WiFi hotspot in the world for the moment.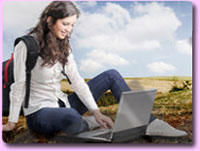 Sleep Mode
When you enable the Wi-Fi function and use the battery to supply powerto the device, once no user connects to the device within 10 minutes oryou press the WPS button, the device will enter the sleep mode, and theLED screen will be turned off. In the sleep mode, the Wi-Fi function will bedisabled. Press Power or WPS button to wake up the device, and the LEDscreen will be turned on.
Notes:
With USB connection if no Wi-Fi user connects to the device within 10minutes, only the Wi-Fi function will be disabled. Hold the WPS button about3 seconds to enable this function.
What's HSPA ?
HSPA is also called HSPA Evolution, Developed HSPA, to ensure the plus sign. HSPA means High-speed Packet Access. it's really an enhanced form of high-speed 3rd generation wireless systems. Because of this , why it's also known to as 3.5G/3.75G network although it is really able to deliver 4G speeds. Technically, HSPA can be explained as a radio broadband protocol defined within the 3GPP discharge of the WCDMA specs. The information rate supplied by HSPA can achieve peaks of 84 Mbit/s within the downlink and as much as 22 Mbit/s within the uplink for each 5Hhz company. Obviously, this signifies theoretical peak sector speeds. Actual user speeds is going to be considerably reduced.
Design Process
Ultimate Slim, Acme Portable
---
Specification
HSDPA Downlink:up to 21.6Mb/s*
HSUPA Uplink: up to 5.76Mb/s*

Data Services

WCDMA: 900, 2100MHz
GSM: 850, 900, 1800, 1900MHz

WCDMA CS: 64kbps UL/DL
WCDMA PS: 384kbps UL/DL

Network & Frequency Band

approx 25m radius in free space

WiFi working range

supports up to 10 users

Wi-Fi Connections

USB and Wi-Fi
Interface

802.11b/g

Wi-Fi Standard
WEP/WPA/WPA2/WAPI
Wi-Fi Security
USB 2.0 HIGH SPEED
USB Version
Micro USB
USB Interface Type

microSD™ or microSDHC™ up to 32GB

microSD card

5V/700mA

Power Adapter

1500mAh Li-ion

Battery

100hours

Standby time
(low power mode)

3hours, depending on usage and network conditions.

Working time

OLED

Display

.09 Inch

Size

Windows 7, Windows Vista, Windows XP (SP2 or later), Mac OS (10.4 or later), Linux

Operate system

IE (6.0 or later), Firefox (1.0 or later), Opera (6.0 or later), Safari (3.0 or later), Chrome
(6.0 or later)

Web Browser

* HSDPA / HSUPA: 21.6Mbps downlink & 5.8 Mbps uplink rated device. Actual customer peak download/upload speeds will be less due to network sharing, signal strength and other factors.
30 Seconds To Initiate
The Connection Speed

---

For User!

3g.i8i.ir

Default SSID

password

Default Security Key

192.168.0.1

Browser home page
password
Administrator

From the powered up state:
Press & hold the power key and the WPS key simultaneously. All passwords and settings will be restored to defaults and the router will reboot.
From the browser interface:
Settings > Advanced > Restore

Restore defaults
www.zte.com.cn
Mine Site
Extraordinary and Excellent
3G WiFi Router

---

physically

77g

Weight

98mm*51mm*13mm

Dimensions

Multi Color:Snowy- blue,
puke-lead

Color

Plastic(ABS)

Shell Material

0ºC ~ +35ºC

Operating temperature
-10ºC ~ +

5

0ºC
Storage temperature

0ºC ~ +45ºC

Charging temperature

5%~ 90%

Humidit

y

Power-WPS

Buttons

SIM Slot-Micro SD Slot-
Micro USB Connector
External Antenna Connector

Connectors

Working 3 Mode
OLED Displey

---

System Requirements

Pentium 500MHz or above
CPU

50MB available space.

Hard Disk

Windows7/VISTA/XP (SP2 and above ), Mac OS X 10.4.9 and Later, Up to X10.6.0.

Operating System

800 × 600 pixels or above (1024 × 768 is recommended)

Display Resolving
Standard USB 2.0 interface
Interface

Internet Explorer 6/7/8, Safari3/4/5

Web Browser

Externally Antenna

---

What's in the box?

• Wireless Router
• USB charging cable
• Battery

File sharing up to 32G!

---

optional

•

E

xternally

Antenna

• Wireless N 150 USB Adapter
• Power Adapter
•

Sim Card

•

SD Ram up to 32 G